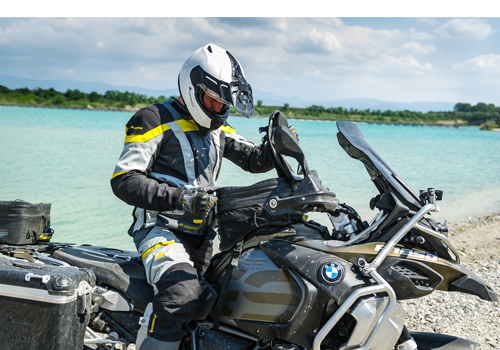 De nieuwe Extreme Edition is compromisloos ontworpen voor zwaar gebruik en vormt een aanvulling op de waterdichte zachte bagage van Touratech. Onverwoestbaar en opvallend vormgegeven zijn de nieuwe tassen trouwe metgezellen voor reizende toeristen die op zoek zijn naar echt avontuur.


Het doseren van de juiste hoeveelheid gas op steile klimmen, het kiezen van het juiste spoor in de ford, het leggen van de perfecte lijn rond boulders en wasbeurten op de single trail - avontuurlijke motorrijders weten dat een permanente focus op de essentie cruciaal is voor het succes van hun uitdagende ondernemingen. Dit geldt zowel voor een off-road avontuur in het weekend als voor een wereldreis. Weg van het asfalt, achter elke bocht, achter elke heuveltop, kunnen situaties op de loer liggen die een duidelijke actie en een perfecte voorbereiding vereisen. Besluiteloosheid, compromissen en laissez-faire leiden vroeg of laat tot mislukking.
Deze duidelijke focus geldt niet alleen voor de motivatie van de rijder, maar is ook onmisbaar bij het ontwerpen van uitrusting voor avontuurlijke tochten. De inhoud mag niet nat worden, ook niet als een zak voor langere tijd onder water staat bij een val in een beekje. Bevestigingselementen en bovenmateriaal mogen niet scheuren, ook niet als er sprake is van stevig contact met onderhout of rotsen. En niet in de laatste plaats moet de bediening zo eenvoudig zijn dat de benodigde apparatuur ook in lastige situaties snel bij de hand is.
Gericht op het wezenlijke
- zo presenteren de zachte bagagestukken van de nieuwe Extreme Edition-lijn zich. "Je vindt in deze producten alleen elementen die een duidelijk omschreven voordeel hebben", legt productmanager Dan Prume uit. Dankzij deze klassieke vorm-follows-functiebenadering hebben de nieuwe zachte tassen een opvallende technische stijl. Omdat functies met zichtbare attributen overeenkomen met deze onderdelen, hebben deze onderdelen genoeg voor zware toepassingen.
En de kernimpressie van de nieuwe producten begint al met het gevoel. Het extreem technische oppervlak voelt niet alleen robuust aan, het staat ook voor buitengewone kracht en duurzaamheid. Alle bagagestukken in de EXTREME Edition zijn gemaakt van een drielaags laminaat dat waterdichtheid combineert met slijtvastheid en scheurvastheid en de producten bovendien de nodige stijfheid geeft.
Het textielmateriaal is robuust genaaid, alle naden zijn zorgvuldig afgedicht.
De hoogwaardige ritsen zijn voorzien van goed sluitende dichtingslippen, zodat zelfs bij hevige regenval geen water naar binnen komt. De bevestiging is bij alle modellen even eenvoudig als veilig - zelfs in de zwaarste off-road omstandigheden. Een bijkomend voordeel: in vergelijking met stijve bagageoplossingen wordt het risico op letsel bij een val enorm verminderd.
Het interieur van alle bagagestukken in de EXTREME Edition is helder geel. Natuurlijk is geel de kleur van de Touratech. Maar ook hier is geen enkel ontwerpelement zonder functie. Want door de heldere contrasterende kleur is het veel gemakkelijker om nog kleinere gebruiksvoorwerpen te vinden dan in een "zwart gat".
Met de zeer functionele bagage van de EXTREME Edition krijgen avontuurlijke motorrijders het perfecte materiaal voor avonturen waarbij het er hard aan toe gaat.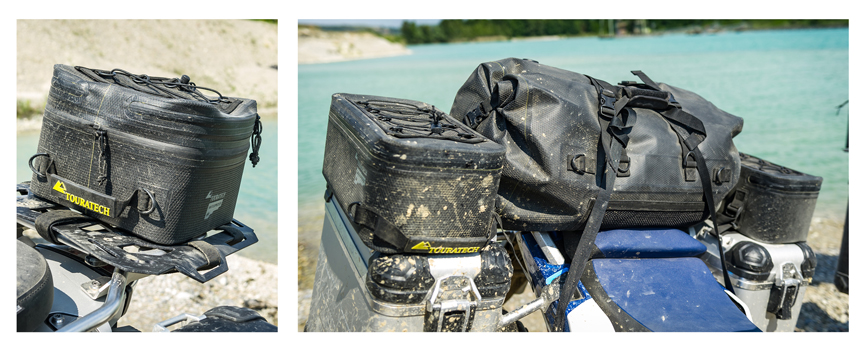 Alle artikelen van de Touratech EXTREME editie